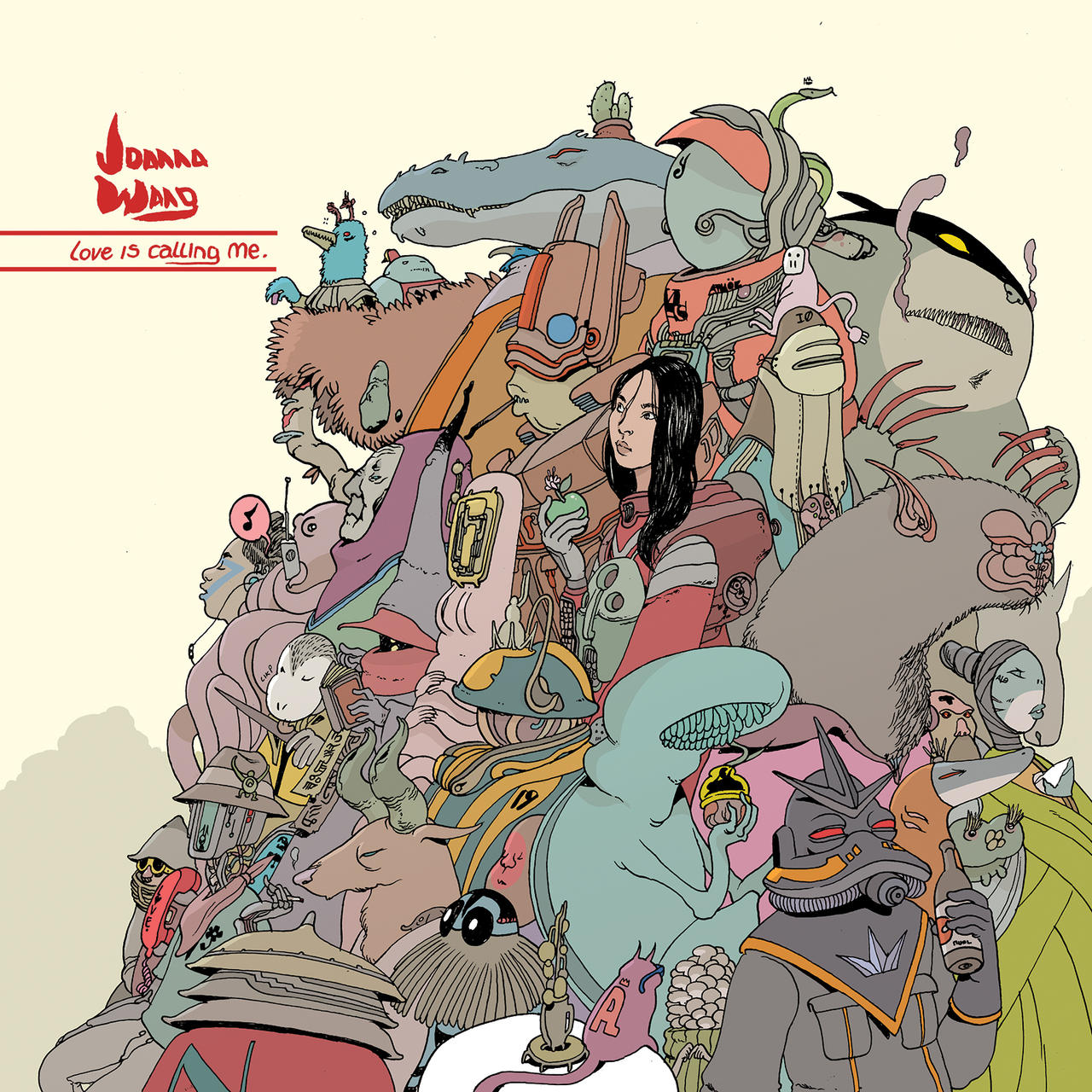 Album Information
Album Name: Love Is Calling Me 愛的呼喚
Release Date: November 2019
Music Video Archive
Album Review
By Matt Taylor
In an interview for Asian Pop Weekly (read it here), eclectic singer-songwriter Joanna Wang 王若琳 mentioned that she is "always for wonderful niches" and she's certainly proved that time and time again on her records. From creating a fantasy musical fairy tale (The Adventures of Bernie the Schoolboy) to composing songs from excerpts of her dreams (Sabrina, Don't Get Married Again!), it's not difficult to be intrigued as to what the Golden Melody Award-winning artist is going to do next.
Her latest release Love Is Calling Me is a collection of eleven romantic songs originally from the 60s to the 80s; each track allowing Joanna to present a distinctive female character. An international affair, the record sees Joanna perform songs originally by artists from Taiwan, Japan and Hong Kong, and allows Joanna to show off her linguistic abilities as she performs in Mandarin, Japanese and Cantonese.
Kicking off the record is Apple Blossom 蘋果花, a Mandarin-language cover of the 1952 classic by Empress of Japan's music scene Misora Hibari 美空ひばり. As did Misora in the original, Joanna sings with incredible restraint about a girl recalling her mother who died in World War II by looking at the falling apple blossoms in the countryside. Traditional enka is replaced with flutes, clarinets and French horns, and the song has an overall grainy and warm texture, keeping the spirit of the original at the forefront.
A highlight of the album is Teresa Teng's 鄧麗君 unforgettable I Only Care about You 我只在乎你. Joanna truly makes this song her own, stripping away the 80's power ballad sheen and replacing it with a subdued acoustic guitar and violins. Her soft vocals truly make the words resonate with the listener, enunciating every syllable with a crisp clarity and gentleness. Joanna impressively makes one of Mandopop's most well-known songs feel not only completely fresh, but also extremely intimate and personal.
The transformations continue across the record. One of the most notable shifts in style is title track Love Is Calling Me 愛的迷戀. Originally recorded by Olivia Ong 翁倩玉, Joanna reworks what sounds like a camp 1970s James Bond theme tune into a French horn-driven, bass heavy jazz number, yet still maintaining the dramatic essence that the original captured. Elsewhere, Joanna extracts the blues out of Tsai Chin's 蔡琴 Blues in the Rain 寒雨曲, transforms Taiwanese country into Nashville country on Teresa Teng's Helpless 奈何, and reconstructs Parisien-inspired ABBA-esque pop number Lover 愛人 with soft psychedelic rock.
Although eleven songs long, with three of them being alternate language versions of tracks already on the album, it feels like it would have allowed for greater exploration of the concept to include reworked songs by other artists. Additionally, whilst Joanna clearly has a huge amount of respect for Teresa Teng, it would have added to the diversity of the album to choose songs by other equally renowned artists, for example a Cantonese song by Anita Mui 梅艷芳 (perhaps Crazy Love) instead of Walking Down the Road of Life 漫步人生路).
There's always an important debate to be had about reworking old songs. Whilst there are arguments both in favour and against, who says that there can only be one version of each song? To be able to take a song and redefine it so that an entirely new audience can appreciate it not only takes artistic capability of the new performer, but also requires that original to be of a certain mettle. Whilst Joanna should absolutely be praised for her ability to rework classic songs with such refreshing vitality, let's also take a moment to appreciate the original creators, whose words, melodies and influence resonate as much in 2020 as they did over three decades ago.
On Love Is Calling Me, Joanna has given a new lease of life to some of Asia's most renowned pop songs; refreshing them for a new generation to enjoy and appreciate. With her charming vocal delivery and musical creativity, she captures the essence of each song, and the personalities and emotions embodied within them. Although a wider song and artist selection would have been appreciated, it by no means detracts from the record's quality, although it does feel as if the record would be stronger for the increase in diversity.
Love Is Calling Me may be considered niche to some, but for Joanna, that's all the more reason to share it with the world. And we're so glad she did.
4.5/5
Track List
01 Apple Blossom 蘋果花
02 Blues in the Rain 寒雨曲
03 Forget Him 忘記他
04 Helpless 奈何
05 Lover 愛人
06 Love Is Calling Me (Japanese Version) 魅せられて ("愛的迷戀"日文版)
07 Slow Walk Of Life 漫步人生路
08 I Only Care About You 我只在乎你
09 Lover (Japanese Version) 愛人 (日文版)
10 Apple Blossom (Japanese Version) リンゴ追分 ("蘋果花"日文版)
11 I Only Care About You (Japanese Version) 時の流れに身をまかせ("我只在乎你"日文版)