By Jonathan Chuang
Joanna Wang 王若琳's track "Alice in Wonderland," a dreamy, nostalgic, slow-tempo cover of the 1951 animation theme song, featuring an 85-person Slovakian orchestra from her 2014 album Midnight Cinema, wasn't made for the TikTok age, but that hasn't stopped it blowing up on the short video platform.
As of May 2022, the 33-year-old Wang's song is the backing track to more than 163,000 videos on TikTok, some featuring glittery strawberry cupcakes, girls with filters showing off shiny hair, and even sex-ed trivia. The number of the total views is unknown, but a measure of the track's popularity is that the supposedly "viral" dance track "Stars Align," by Mandopop megastar Jolin Tsai 蔡依林 (co-produced by Morrocan-Dutch DJ R3HAB), is used in a paltry 25,000 videos on the platform.
With 41 percent of TikTok users aged between 16 and 24, Taiwanese-born American Wang's success with "Alice in Wonderland" proves that today's pop doesn't have to be a bass-gurgling, volume-maxed-out EDM track made by a good-looking DJ to attract Generation Z. But how did a vintage re-worked theme song from a 1950s animated movie of the same name lend itself to videos of their lives?
It's perhaps a testament to Wang's versatility and prowess as a creator with a 15-year career of pushing boundaries in her music, and the appeal of something different — a dreamy, magical, nostalgic vibe—to the younger generation.
Salina Johns, a 24-year-old TikToker/singer-songwriter with over 2 million followers once explained that the generation is tired of the "traditional" pop songs by megastars such as Ed Sheeran or Taylor Swift. Gen Z megastars such as Billie Eilish or Lil Nas X have been breaking the very idea of "pop" music — founded on capitalist music labels and repetitive choruses — and instead break walls between musical genres and embracing sounds that are fluid and difficult to categorize.
Wang's unexpected success on TikTok is just the latest peak in her stellar and eclectic career. She swept the best new artist awards and nominations — the 20th Golden Melody Awards, the 9th CCTV-MTV Music Awards, and more—when she debuted in 2008 at age 19, singing mostly covers in English. She has since released over 10 albums, EPs, and singles that each carved out unique sounds.
In her early days, Wang, who learned to speak English fluently when she immigrated to the US with her parents at age 8, was known for covering classics from David Tao 陶喆, Cat Stevens, Nancy Sinatra, and others. Her 2008 debut album Start From Here was a phenomenal hit across China, selling around 100,000 physical copies even while the record industry was slowly phasing into streaming. The album could be heard everywhere from TV dramas in Taiwan to McDonald's restaurants in Beijing.
Though her debut's soft ballads hit the market successfully, the artist had mixed feelings about becoming known as the Asian Kenny G. "I just wanted to be Danny Elfman," wrote Wang in response to public queries on Reddit over a decade ago, referring to the American songwriter who's known for his wild creativity and influences spanning across ska, world music, rock, and new wave, "but flukily became known as a lame soft 'jazzy' ballad singer in Taiwan/parts of Asia."
Now 13 years into her career, she's proudly moved on from her past of covering pop ballads and pushed herself artistically with songs featuring amusing personal stories ("The Motorized Scooter Endo" tells the story of her teenage crush), characteristic vocals ("Blues in the Rain," a 1958 classic that she re-interprets with drama and emotions), and well-designed orchestra arrangements ("Pure Imagination" brings back Willy Wonka's magic by producer Pessi Levanto) that are uniquely her own.
This was no fluke, either, but a deliberate career strategy that Wang had developed and fought for: Starting with her second album Joanna & Wang Ruo-lin (2009), another collection of covers, she negotiated with her label to allow her to release her own work as a bonus disc, The Adult Storybook. She repeated the deal in 2011 with The Adventures of Bernie the Schoolboy accompanying the more commercial The Things We Do For Love.
Wang strikes out in yet another direction with Midnight Cinema. Apart from "Alice in Wonderland," the opening track, it includes theme songs from classic films from the Sinosphere: such as An All-consuming Love 長相思, 1947, A Better Tomorrow 英雄本色, 1986, A Moment of Romance 天若有情, 1990, Red Rose White Rose 紅玫瑰白玫瑰, 1994, In the Mood For Love 花樣年華, 2000, and Infernal Affairs 無間道, 2002. "I wanted to pick an album full of songs that are not your standard love song, these songs all have a kind of twist to them, they're kind of dark," Wang said in an interview with radio jockey Joseph Lin in 2014. "I wanted to make this a nostalgic and kind of lonely listening experience."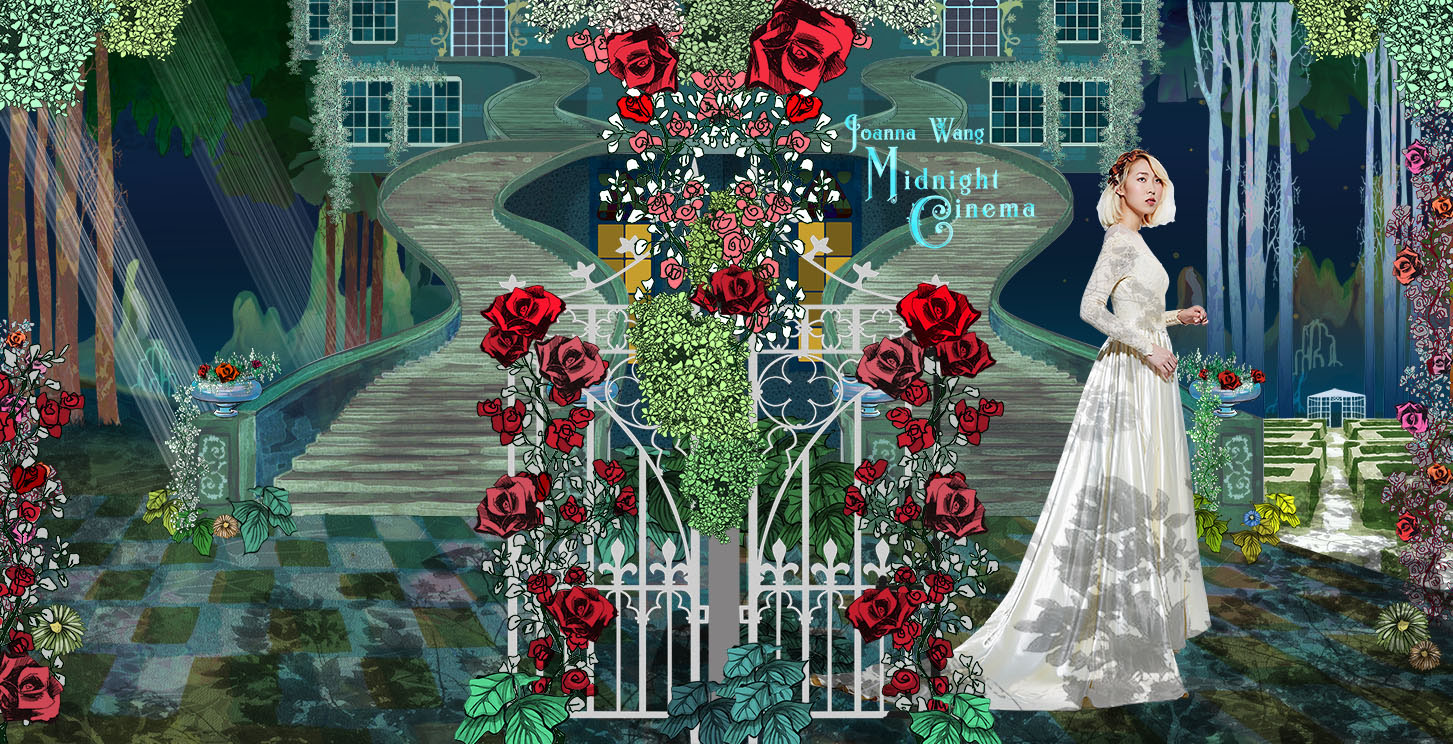 But another part of Wang's appeal lies in her use of social media and interaction with fans online, way before TikTok and other short video platforms existed. Though Wang's personal TikTok profile shows little activity, she has been actively uploading self-recorded videos of herself singing onto Youtube, Facebook, and Instagram for years.
Her videos are rarely edited and are known for their down-to-earth quality — she had been making short videos even before they were a thing. Absent are the fashion magazine covers and Instagram Stories hinting at her next big project found on the accounts of many other artists signed to a label; Wang interacts with fans as if she's just the girl next door who loves to sing.
She even maintains a degree of anonymity online by using various monikers (like Chicken Joanna, Alferd Packer, and newtokyoterror) that fans must first discover before they can interact with her, and she'll cover almost anything. Her social media uploads include covers of big stars like Eric Clapton, Paul McCartney, and Queen. But she also gives a new soul to "Ordinary Girl" from 1995 teen sitcom Clueless; "Some Kind of Wonderful" from 60s R&B band Soul Brothers Six; and "Hong Kong Swing" from Northern Ireland post-punk gothic rock band Cruella de Ville. Her version of the Doraemon theme song, which she sings effortlessly in Japanese with her custom left-handed guitar, remains one of her fans' favorites with over 54,000 views on Facebook.
Wang's most recent collaboration with singer-songwriter 9m88 up-cycles Madonna's 1984 hit "Material Girl" and consolidates fans' admiration. "This is epic. I have to listen to this every time I feel down, It definitely raises my mood," a fan, Kyle Schmitt, tells Asian Pop Weekly. "This is such a cool mix of Joanna's polished earlier covers, her quirky original stuff, and her extremely unique alferd packer sound. Big fan," says another fan, who identifies himself as Gilbert. This spirit of DIYing covers and unleashing original creativity coincides with the appeal of user-generated content that has boomed in recent years — Wang's intimate social media presence and vast imagination is what young fans crave.
Not all of Wang's songs are big hits—most of her others are used in less than 1,000 videos on TikTok. But her music and ethos are still a breath of fresh air for the saturated sounds of Mandopop where megastars such as Jay Chou 周杰倫, JJ Lin 林俊傑, and G.E.M. 鄧紫棋 have heavily relied on the I–V–vi–IV chord progression (also known as the pop music chord progression), and has been recognized as such by the industry. When Wang's 10th album, Modern Tragedy (2018), won the Jury Award at the 30th Golden Melody Awards in 2019, Sandee Chan 陳珊妮, the head judge that year, commented: "She's hard to define by any so-called genre. And she's constantly trying out different styles to break through typical mainstream aesthetics… the jury cannot be more impressed by her vivid imagination and the courage to be different."
Wang's most recent album, 2019's Love is Calling Me, boasts an ambitious revival of Shanghai's shidaiqu (時代曲, a blend of Western jazz and Chinese folk music prevalent in the 1920s), Japanese kayokyoku (歌謠曲, Japanese pop-music from the 1920s) and enka (演歌, a Japanese music genre that's stylistically traditional, popular in the 1950s), and classic Taiwanese pop songs. Wang interprets classics in Mandarin, Cantonese, and Japanese spanning across decades, showing the beauty of coexisting.
As platforms such as TikTok continue to disrupt and change the music landscape once-dominated by major labels, Wang's voice leads us down a rabbit hole of how pop music can remain relevant in the user-generated social media age while still making diverse and innovative sounds. It doesn't have to be absurdly-repetitive beats or insanely high-pitched vocals. Instead, a vintage theme song, a classic cover, and a well-orchestrated track can do the job to provide the perfect 15-second backdrop to a video about Gen Z life.
This story is published as part of Asian Pop Weekly's collaboration with The World of Chinese.